Nine Xssentials, a skincare company has introduced a new skin care line designed for all skin types.
PRESS RELEASE UPDATED: APR 6, 2020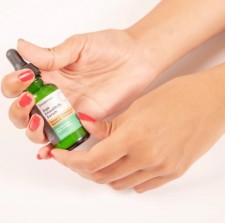 LOS ANGELES, April 6, 2020 (Newswire.com) – Nine Xssentials, a skincare company, recently unveiled an "age beautifully serum." Nine Xssentials is a "pro-age," and not "anti-aging skin care line."
Specifically created to be suitable for all skin types, age beautifully serum was made in part to improve the appearance of acne, dark spots and other skin blemishes. This clear skin serum was devised to lessen or eradicate wrinkles, increase the body's collagen, while fading or erasing so-called "dark spots." The end goal of the serum is to promote clearer skin.
Formulated entirely out of natural ingredients, this serum is made of Vitamins C, B3, E, as well as Retinol, Squalane, Tea Tree Essential Oil and other natural ingredients. For external use only, it's meant to be applied to the neck, decollete, and face.
Aside from providing the best quality skin care products, Nine Xssentials is also focused on positively impacting the world through charity. Nine Xssentials donates 10% of its total annual net income to different charities run by female leaders and charities generally making a positive impact in the world.
"Society always tells women that they have to conceal their age. We don't believe in that. Instead, we believe beauty begins from within. So, a woman's beauty as well as her value increase as time goes by. The entire purpose behind a 'pro-age' serum is that it allows women to fight the signs of aging while also feeling positive about the idea of age. Our commitment is to help women of every generation look and feel beautiful by first showing them that beauty begins on the inside and then helping these women fight the skin concerns that make her think she's not beautiful," said a spokesperson from Nine Xssentials.
Nine Xssentials is currently offering free shipping on all orders. Subscribers to the newsletter can receive 15% off of their purchase.

For more information about a pro-age serum, aging beautifully, or to make a press inquiry, contact Nine Xssentials at https://www.ninexssentials.com.