PRESS RELEASE UPDATED: JUL 6, 2020
LOS ANGELES, July 6, 2020 (Newswire.com) – Siyah Organics offers herbal supplements online and has continued to do so through the COVID-19 pandemic. At no time were shipments slowed or stopped, and they have continued to offer shipping all around the world. 
The company grows the plants for their supplements in Mbodiene, a village in Senegal. For the last nine years, Siyah Organics has utilized local farmers, creating local jobs for the Mbodiene community. All of the plants used in their products are hand-picked, having been grown through sustainable, pesticide-free agriculture. This, too, has not changed during the pandemic.
To aid nearby villages, Siyah Organics has long assisted with health programs, as well as distributed their plants in those communities. That has helped to fight both parasitic and viral diseases in the region.
Siyah Organics' quality control process has been maintained during this time as well. The company's European agronomists and naturopaths in the Sub-Saharan regions have always emphasized safety, however, they have taken even further steps during this crisis.
"Safe, natural medicine has always been important, but perhaps never more so than at a time like this. So many are now more aware of washing their hands, what they touch, and how they live. To truly become and live healthily, however, pure herbal supplements can play an important role in boosting your health during any time. We're proud to have been able to continue supporting our customers even during this challenging time. Growing the plants, drying them, manufacturing them, and then packaging them has all been done in such a way as to protect workers as well as customers. We know this time has been so difficult for so many, and we're committing to helping as many as possible to come out of it as healthier as possible," said Helene Sy of Siyah Organics.
Siyah Organics offers herbal supplements as well as teas, soaps, natural cosmetics, and more.
For more information about natural ingredients, herbal supplements, or to make a press inquiry, contact Siyah Organics https://siyah-organics.com/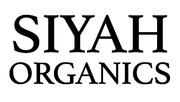 Source: Siyah Organics