Critter Squad's reptile birthday party packages will bring fun and entertainment to your kid's birthday bash. If you want to give your kid something unique and exciting, book your party with us and you will never be disappointed.
A reptile birthday party can't go wrong if you're planning to give your kids an animal entertain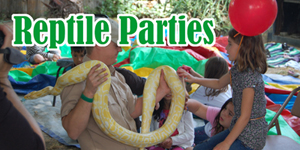 ment for this special occasion. Throughout the party or show, our guide will give your attendees fun facts about every animal that we bring, like where it came from and what it eats. Or the kids and adults in the party can ask our guide anything.
Our parties offer hands-on experience. Every kid will have the chance to touch and hold the reptiles. Of course, the celebrator will be the first to hold and touch every reptile.
We can perform at home, park or in a clubhouse. All party packages can be made outdoors or indoors, depending on your preference.
Reptile Birthday Party Packages
The reptile invasion is our most popular reptile party package. We have more than 20 species of reptiles and amphibians. Our trained animal teacher will bring you tamed animals that will make your child and other kids go bananas. For an hour of excitement, the kids will get to see and touch the 18 animals that we bring.
Our slither sensation package is ideal for those snake freaks. The Critter Squad team will bring the snake world to your house and all kids will surely be amazed. With this package, your visitors will experience how to touch and carry the 10 snakes that we bring for the party.
If your kid's party is filled with activities, we recommend our reptile-stamped party. It's a brief but exciting party that will help your kids and his/her visitors to get a slice of how reptile wildlife is like.
There are other packages that we can offer for your reptile birthday party. The Hiss and Slide party package will give your guests a 30-minute experience with our amazing reptiles. Our Lizard Blizzard package is ideal for those who love lizards. For those who love turtles and tortoises, we recommend the Shells are Swell package. It's a one-hour entertainment that is filled with fun as kids can see and touch small tortoises and other varieties of turtles.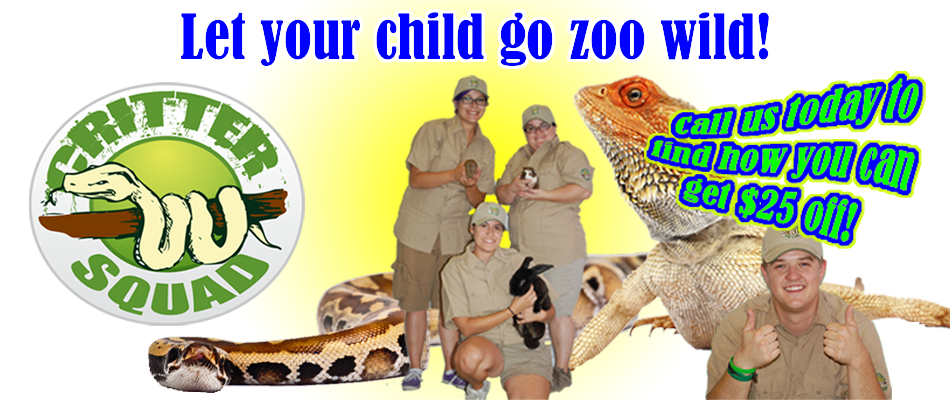 Book your reptile birthday with Critter Squad today to make sure that your upcoming party is an event that your guests can't forget. Call us up at 818-654-9433